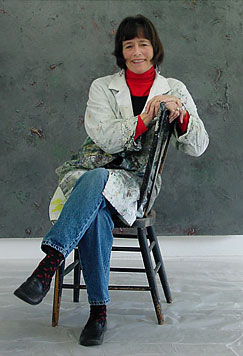 Thekla Hammond

It was her grandmother's name. We don't know how the grandmother came by the name as she was neither Greek nor Scandinavian, but British. There are records of an older one, Thekla-Equal-to-the-Apostles, who lived in Antioch and was a follower of Paul. She disguised herself as a man in order to preach the gospel, was found-out, seized by the authorities and put into the arena with wild beasts. But angels descended from heaven to protect her from harm. She became a saint.

The events of the current Thekla's life are not so dramatic - yet. She grew up in Los Angeles, between UCLA and the sea, in a somewhat conventional family. Well, it consisted of a father, a mother, two brothers and a dog. Almost as early as she could talk she started telling stories and drawing pictures to illustrate them. She read the many stories about "Margaret" aloud in their entirety to her family any time they were sitting in the car, a captive audience, for more than five minutes at a time. Either the family members were long-suffering (hard to imagine with brothers) or angels were protecting Thekla from harm.

She studied History and English in college and went to graduate school in Anglo-American Intellectual History. The stories about the development and influence of ideas fascinated her, but she missed the pictures. She started taking drawing and painting classes at night. In time she realized that she was more interested in the night. She moved to Massachusetts and apprenticed herself to a New England painter. Under his guidance she began to explore the magic of stories in color and form. She exhibited her paintings in several galleries and began to teach in a community college. She needed a degree in art, so she returned to California to earn an MFA in Painting and Drawing.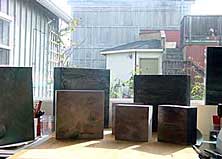 Studio view
Out of school, she worked first at the Santa Barbara Natural History Museum, designing and installing the Marine Hall. She set up her own painting studio. Then she taught English classes at Santa Barbara City College and art classes at the Santa Barbara Museum of Art. Stories and pictures. Perfect. But she had met Stephen. He wanted to move to San Francisco. She wanted to stay in Santa Barbara. They married and moved to San Francisco. In 1986 they moved to Berkeley. She built her own studio there in 1990. Stephen designed it, her father paid for it, and she borrowed a hard hat so she could be the General Contractor.

Thekla was represented in San Francisco first by the Tom Luttrell Gallery. Then by Cheryl Haines. Now by Toomey-Tourell. In Oaxaca, Mexico, she was represented by Galeria Quetzalli. Graciela, the dealer, had such difficulty getting the shipped paintings through customs in Mexico City that she invited Thekla to come to Oaxaca to paint. She provided a house with a rooftop studio. Perfect.

Collaborations, first with a Boston painter, then with a cellist and a composer occupied Thekla's attention for the last years of the 20th century. Exhibitions of the resulting work at the Richmond Art Center, "Epistolary Paint: A Visual Correspondence", at Cal Arts in Valencia, "Sound and Surface; A Duet for Brush and Bow" and at the Santa Barbara ContemporaryArts Forum, "Synaxis: A Collaboration in Sight and Sound" completed the series.

Since then she has been solitarily painting in her studio. She also sings in her studio with a madrigal group. Pictures and stories in song. But she has just about given up hope for Thekla-Equal-to-the-Apostles' drama. The wild beasts she faces in her studio are probably enough, and anyway, the angels may have been protecting something more than the name Thekla. In any case, it's looking as though she won't be a saint. Perfect?